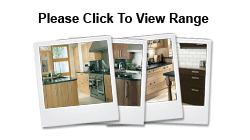 PVC / Foil / Vinyl Kitchens
These kitchens are usually looked at as being the budget range for our clientelle but the manufactuing technology and paint techniques used today can make them be easily mistaken for the real mccoy. Whether you prefer the homely natural timber effect finishes or the stunning coloured gloss doorst,
we can design, create and install a kitchen which suits you and your budget.
Simply click the photo images to the right or select from the quick find list below. We are sure you will find a style which you will adore.